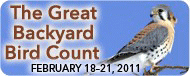 Many S's today, the first being Sleeping (late, that is). The next was Shopping—I didn't particularly want to go to the supermarket on Super Bowl Sunday, but we needed eggs and the crowd wasn't too bad. I guess everyone did their big shopping yesterday. :-)
When we got home James started the brownies we were taking to Ron and Lin's house for a Stupor Bowl party. Since the main dish was chili, he made "Mexican" brownies: put cinnamon chips and also some cinnamon in the batter. They tasted neat: a chocolate taste, with a burst of cinnamon, then the chocolate aftertaste. Following that, James made Mexican cornbread (it has Rotel and chili powder in it).
We also Stocked the freezer by wrapping the meat we bought yesterday. We got eleven pork meals and ten beef meals out of it. And then had to Swab down the kitchen, of course.
I also put the first two coats of "Real Brown" on the two new
corner Shelves
for the spare room. Just in time, as I need someplace to put the quartet of stuffed songbirds I got for Christmas (you squeeze them and they give out the actual call of the bird).
Have discovered it's just as much fun watching the Puppy Bowl with the sound down and listening to something else ("Wait, Wait, Don't Tell Me"). :-)
We left for Ron and Lin's about 4:30, stopped for gasoline and a paper, then spent the next four hours chatting, critiquing the commercials, and even occasionally watching the game. I'll tell you, if I were a football fan, I'd be seriously pissed at this game. There would be three minutes of play, a gallon of commercials, four minutes of play, more commercials, three more minutes of play, etc. The Black-Eyed Peas did half time. I'm not impressed, although the guys with the light-up suits were kinda cool. James commented that the guys were all dressed like Griff and his gang from
Back to the Future II
. Much preferred the Kitty Half-Time Show at the Puppy Bowl. :-)
Of the commercials I saw, some were cute, but I didn't see anything I thought was totally spectacular. The Western theme Budweiser commercial didn't get much better than cute, and usually the Budweiser ads are corkers. All the horses did was pull the stagecoach and rear when the singing started. Yawn.
Labels: crafts, food, television