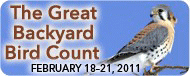 I'd like to say I accomplished great things on my holiday, but that would be such a lie. :-) Intended to get up earlier, but you know how that goes. I would be much happier if I could go to bed at 1 a.m. and get up at nine. I'm never sleepy at eleven. Night owls'r'us.
The temperature was already climbing out of the fifties at ten o'clock, so I decided to go out while it was still cool. I left Schuyler watching Kathie Lee and Hoda, although I'm convinced it's going to destroy her brain—do you know neither of them knew that Abraham Lincoln's birthday was February 12? I realize you don't have to be a genius to do what they do, but honestly...elementary school stuff, guys.
I put on a "Travels with Rick Steves" podcast about traveling while being respectful of local ecosystems, and went out to the Borders at East Cobb, hoping to find the new
Yankee
, but it's not out yet; neither is the new
Early American Life
. Nice to go into a Borders that isn't closing. Finished the eco-cast on the way back and started another about musical travel in Europe, a godsend waiting in line for gas at Costco, where it was 15¢ a gallon cheaper than anywhere else. At least eight cars in each lane (six lanes). Finished this at home and also listened to a "Tech Guy" podcast.
Had a can of salmon for lunch. This was less than satisfactory; smelled like tuna but was bland and fishy all at the same time. I know fish is good for you, but, God, I really hate the taste. Later on cooked turkey thighs for supper, and made a rice dish we bought at Aldi, apple walnut flavor long-grain and wild rice. This had an odd scent, but tasted fine.
We have a busy night tonight: it's Monday again. Once again we'll watch
House
and DVR
Antiques Roadshow
to watch at nine. Then
Castle
and
Hawaii Five-O
will DVR while we watch
Harry's Law
via broadcast television.
Nice to know that today when you miss a television program you can find it online! There was a notice on WENNlist that both Kevin O'Rourke and John Bedford Lloyd had been on an episode of
Blue Bloods
. So I hitched the computer to the television, found the episode on CBS.com, and played it. The obligatory ads were very badly placed, but we were able to enjoy it. James and I even wondered if the Commissioner's shooting was a red herring and that Kevin O'Rourke's monsignor character was the real target. John Bedford Lloyd looked like a Marine; I knew it was him by that lovely voice, however!
Since everything was hitched up already, I played the last of the
History Detectives
that GPB never showed last summer.
Labels: books, computers, podcasts, shopping, technology, television