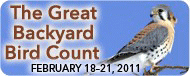 Yes, and it's only three days after Valentines Day! It's supposed to be 72°F tomorrow and 71 on Saturday.
Granted, we've had enough warning. The birdsongs have been changing for at least two weeks—if you don't watch or feed birds it might not sound any different to you, but it does to me. More birds are singing, and different songs, and the woodpeckers have started to drum. A year or so back, I saw one canny woodpecker drumming on our gutters; it magnified the sound and made him sound like the world's sexiest male. :-)
Making sure I have the feeders stocked so that I can have some good viewing this weekend!
Working and listening to
BBC History Magazine's
January podcast, having already listed to a "Tech Guy." Think I'll do a Mugglecast next.