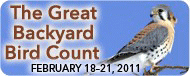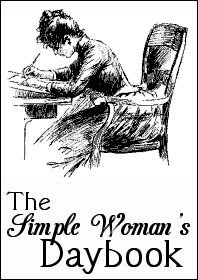 FOR TODAY, FEBRUARY 15, 2011
Outside my window...
I can see the bird feeders. The occasional chickadee, titmouse, and brown-headed nuthatch are flitting about the tubes (they are squirrel-proof feeders), helping themselves to seed. I love the smallest birds the best. The nuthatches are especially fearless; I have had one watch me not fifteen inches from my face while I refilled the feeders.
I am thinking...
that it is nice to have the afternoon off. James was off today to go to the doctor; we met at the Borders in Buckhead, stopped for lunch at Nathans, and then came home to watch the first night of Westminster, which I had to record because almost everything we watch on television is on Monday night!
I am thankful for...
making it home! The traffic here is...daunting, to say the least! When I go into work I am dashing there and back at 70 mph. If there was no gravity we'd go hurtling pell-mell into space.
From the learning rooms...
I kept this in particularly because I always like to learn things, especially from my reading! And it is especially appropriate because I had a training class this morning about writing negotiation memorandums. (This mainly applies to contracts, but everyone in purchasing attended, even my supervisor, who probably knows more about negotiation memos than almost anyone!)
From the kitchen...
not much. I don't cook if I don't have to. James is the culinary
artiste
in the family. Last night he took some cubed pork we found on sale and stir-fried it with the leftover rice pilaf we had from Red Lobster, along with bean sprouts, cashews, onions, and mushrooms. Perfecto.
I am wearing...
my ratty old WordPerfect sweatshirt Alice made for me, and gas-flame blue sweatpants and the usual Hanes white ankle socks. All very comfy.
I am creating...
this blog? Nothing at the moment. I just finished painting two corner shelves that will go up in the spare bedroom, and a small shelf that I will put up in the hall bathroom to hold a clock and the pretty glass lighthouse James got me for Valentine's Day (the bathroom has a lighthouse/seashore theme).
I am going...
to put up those shelves on Friday, unless I have some time tomorrow or Thursday at lunch.
I am reading...
several things, but this is primarily absorbing me:
The protagonist is Abigail Adams, who must solve the mystery of the death of an unknown woman after husband John is suspected of the crime. I am only a few chapters in and am already enjoying the picture of Colonial Boston that Hamilton is painting.
I am also reading a history of New York City as told through landmarks, and a history of the King James Version of the Bible.
I am hoping...
we will continue to have some cool weather. It doesn't need to be cold (except at night, so I can sleep better), just so long as it is not hot!
I am hearing...
the commentary and narrative of the Westminster dog show. We look forward to this every year, watching all the lovely dogs!
Around the house...
it's looking rather untidy, at least in the living room, books, magazines, and my Valentine card scattered across the coffee table. The carpet definitely needs a good vacuuming!
One of my favorite things...
is the magazine
Best of British
! I've just begun finding it at the Borders store in Buckhead again, after it disappearing from every bookstore magazine rack in Atlanta in 2005. I found my last one in Rhode Island during the summer of 2005. It's a British nostalgia magazine; I love reading about memories of World War II, the Depression, first jobs or cars, old-fashioned things like breweries and thatched roofs, etc!
A few plans for the rest of the week:
I mentioned that: shelves. I also need to run to JoAnn, as, while fixing my pants yesterday, I was reminded quite pointedly [pun intended] why I need a thimble!
Here is picture for thought I am sharing...
I love these little guys; even on the coldest day of winter they appear plucky and upbeat. In truth, I admire the way the birds always make the best of their situation. Certainly Mr. and Mrs. Chickadee put up with all sorts of weather, while I suffer so in the summer. And the brown-headed nuthatches are certainly braver than I am!
Labels: Simple Woman's Daybook