I've a pretty bad sore throat this morning which I have been soothing with hot oatmeal and cold milk; not sure whether I am catching James' cold or it was just all that leaf mold yesterday.
But yesterday was fun, and if it is the leaf mold, it was worth it.
We had our branch picnic yesterday and it was a perfect day for it. It had rained earlier, but just a bit of water, and was cloudy until late afternoon, although the sun tried to peek out at times, so it was cool and perfect, with no glare in your eyes.
I didn't go to last year's picnic due to an appointment, so I had not seen the new park that we are using. I had liked the old park, especially the nice walking trail, and it was close by the office, so I was annoyed at having to make my way through traffic to this one. It was less than 10 miles to get to, but it took me over a half hour to get there, since the direct route, via the freeway, was blocked and I had to backtrack down Chamblee-Tucker Road and then up Peachtree Industrial Boulevard to the 141 split, then left on East Jones Bridge Road at a horrendous traffic light that took ages.
However, the park is wonderful. It is right on the banks of the Chattahoochee River, so we were afforded some lovely scenery. Our picnic pavilion was right near the old bridge that the park and road are named for.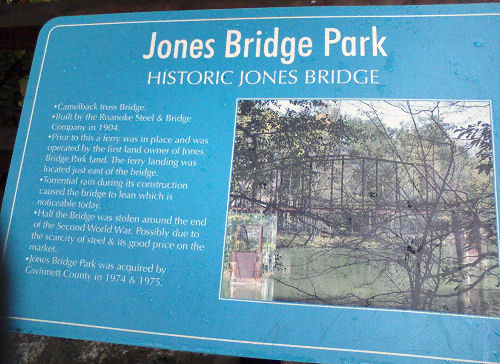 Thought it interesting that they think the half of the bridge that was missing was used for scrap during World War II.
I took a photo of the bridge through the trees, and I suppose if you squint you can see it. :-) It's about center, those rusty-red uprights.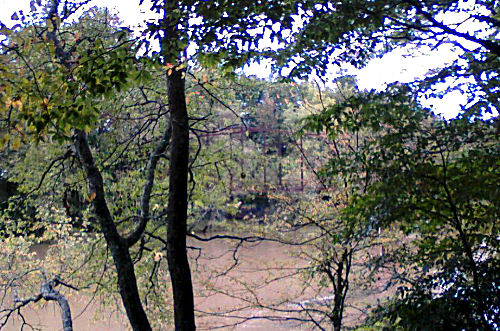 I didn't take my camera, just my phone, and I neglected to clean off the lens, so I suppose I am lucky the few photos that are presentable came out as well as they did!
There was a graveled, rock lined path and stone steps down to various points of the river directly next to the pavilion, so I was able to gather these photos after our "all hands" staff meeting held before the festivities started. You can see from several of the photos that the fall color is just, just beginning here.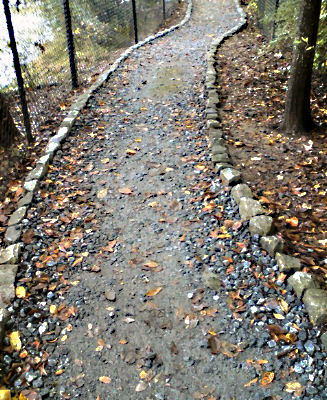 (Doesn't that path just scream "Follow me!"? LOL.)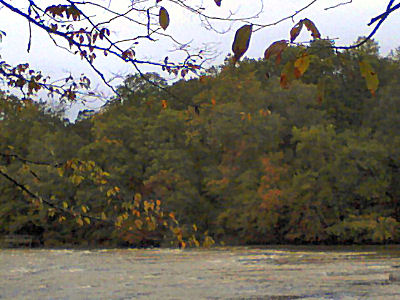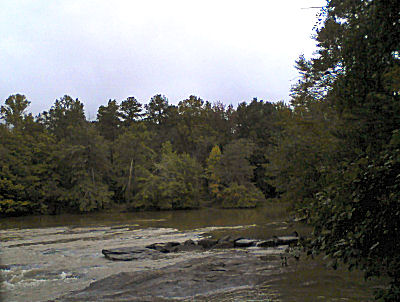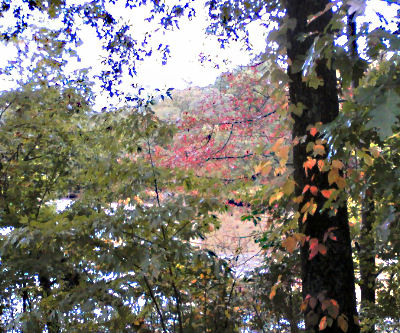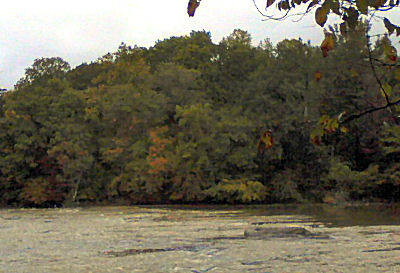 The park was teeming with wildlife: I saw squirrels, chipmunks, mallard ducks, and Canada geese, and, during my walk, a beautiful red-tail hawk, but the only half-presentable photo is this one of the geese on the rocks. :-(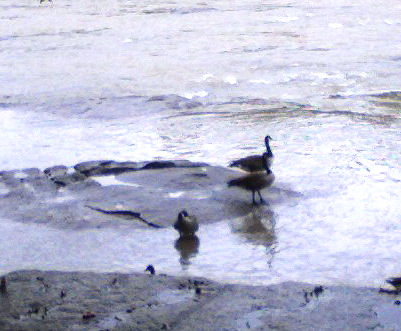 (I was also using the zoom on the camera, which doesn't work well at a distance.)
Here's a pleasant cove with a bridge overhead: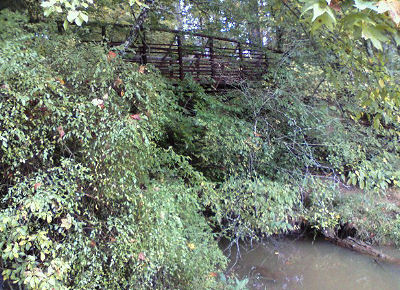 Looking at the next view, I understood why Huck and Jim enjoyed living on the river so. Doesn't that just make you want to find a raft?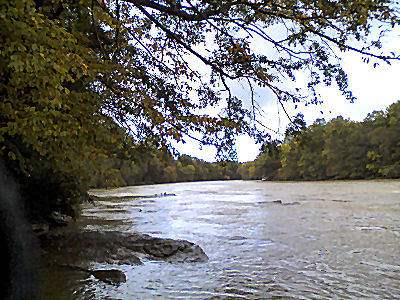 The picnic fare was quite varied: they served hot dogs, hamburgers, barbecue ribs, baby green salad with tomato and cucumber, potato salad, cole slaw, and some supermarket cookies for dessert. I just had a plain burger, two ribs (amazingly with barbecue sauce that didn't make me sick), some salad and a cookie, and sat with Steve, Janet and Tamara, where we ended up talking about old times: the building in Buckhead, the fish fry at that stiflingly hot little park off Buckhead Avenue, the razing of all the buildings we knew.
After lunch I headed off for a nice hike in the woods. Steve and the others headed off on the path, but I found a nice little trail heading over a bridge and right into the woods. I love walking in the woods, even if it does make me homesick for Queechee Gorge and going to the Scituate Reservoir property when the leaves turned. The path went right and left, but there was a fainter trail directly up the hill and I tramped over tree roots to end up at another clearing for a pavilion that wasn't being used. This one was next to a tennis court, and as I walked out of the woods a big red-tailed hawk flew by and perched on the chain-link fence around the court. I took a photo of him, but it was very dark. I got closer and boosted the brightness on the phone, but he chose that moment to rise into the air and fly past me, almost right overhead. A big bird, the size of an owl.
I crossed to the parking lot and found these trees about to burst into fall loveliness: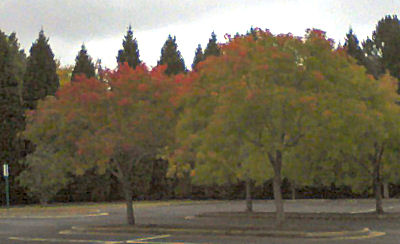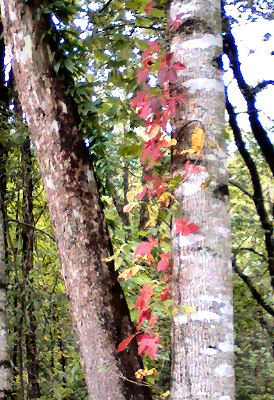 I then crossed the street to a park outbuilding and found these vines climbing a tree next to a culvert. Almost at the foot of this tree were a patch of flowers (another aborted photo, alas) that looked as if they were yellow violets. Since violets are usually a spring flower, I'm not sure what they were.
From the road I cut back into the woods. I was walking nearly an hour, just going from one leaf-strewn path to another, crossing over little creeks that fed into the river, some of them choked with bits of branches and only a trickle of water making its way through to the next level. On nice days like this I am almost reluctant to emerge and come back to reality. Being in the woods is almost like traveling back to another time and place. Was the path like this for Robin Hood and his men in Sherwood Forest—or even Lassie with Jeff or Timmy? Or similar—with some tropical deletions—to the paths Jody trod with Flag at his heels? I am reading Mary Stewart's Merlin trilogy again and thinking of the woods path that Merlin follows in the book: near the Welsh cave that he considers his home, in the woods in Brittany following Belasius, or in the Galava forest right before he meets the young Arthur.
And how can I keep from thinking of Robert Frost, although it's not quite a "yellow wood" yet and certainly not a snowy evening, when I'm walking down something that looks like this: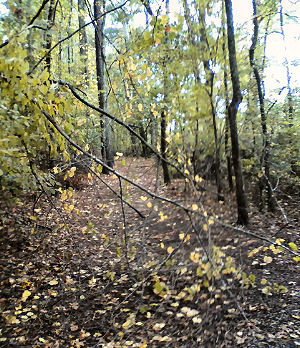 "The woods are lovely, dark and deep,
But I have promises to keep
And miles to go before I sleep,
And miles to go before I sleep."
On the way home I stopped at Borders at Perimeter; whew! Have they cut down on their stock. It was quite disappointing. I also made a brief stop at The Container Store and at the Perimeter Barnes & Noble, where I found the Christmas issue of
Early American Life
.