The day began beautifully, in the low 70s, cloudy, with a breeze. You can't do much better on a summer day. In fact, it stayed cloudy all day as well. Woohoo! Made tramping between hotels downright easy, although I found I didn't mind it so much this year because it was not stiflingly hot.
I have to say we did quite good with supplies this year. We did not overbuy, and had low-cal meals all weekend, no fast food, and healthy breakfasts at home rather than relying on Burger King for Cinni-Minis as we had in the past (which makes what happened early Sunday morning all the more puzzling). I also had a better time with my shoulder this year. I put a shoulder pad from another item on my lunchbag and it worked quite well. Last year my shoulder began burning and hurting from carrying both my lunchbag and my camera, and my arm has not been the same since; it hurts when I lift it too high.
Downtown was even more deserted this morning than it was yesterday; you could have driven a herd of elephants down Courtland Street and almost no one would have been there to notice. James and I once again spent the day apart, as his interests diverge wildly from mine. I think he spent most of the weekend at the Apocalypse panels (the practical ones, not the ones involved with zombies. <g>). So we parted at the Courtland Garage entrance and I was once again on my way to the Sheraton, for the "Everything Who" panel at 10 a.m. The panel members, which included Alan Siler, organizer of TimeGate, and Rob Levy, arrived a little late, so we were all in a relaxed line outside waiting for the doors to open. I had a nice conversation with three other women around my age, partially about George Takei and partially about guests and their need or, sometimes, non-need, for convention escorts. One of them had seen Anthony Lewis and Gareth David Lloyd crossing from hotel to hotel without an escort, which she thought surprising.
This was the combined
Who
panel, so it was a bit tight for the room; I don't think they expected this many people at 10 a.m. on a Monday due to all the parties last night. So we were discussing all the Doctors and all the companions.
At 11:30 I walked back to the Marriott to catch a little of Micky Dolenz. I stopped at the Exhibition Hall on the way upstairs and checked to see if the sheep game was still there, but they were all gone. I considered another card game, then remembered we hadn't played all the new ones I have already, so left empty handed.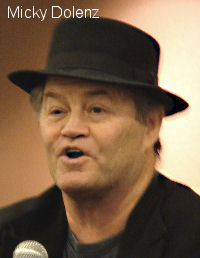 I used to watch
The Monkees
off and on; Mike Nesmith was always my favorite. But I found Micky enjoyable, although I wasn't into the series in the depth in which the rest of the audience seemed to be, talking about different concerts. He talked some about several concerts, including what was apparently a famous one from Hawaii, the movie
Head
(which was panned by many of the fans at the time because it wasn't like the series), and his getting to meet the Beatles, dressed up in full hippie regalia, and finding himself in a bland room during a recording session. He did say that he and the others are not really close socially; they usually see each other just when someone arranges a reunion.
However, I did get a few pictures for Emma :-) before slipping out early. I wanted to hit pre-registration for next year so that we could have the rest of the afternoon to ourselves. This only took about ten minutes, including filling out the form, and I was headed back to the Sheraton, so I cut through the Marriott and did one last pass of the Dealer's Room, where I said hi to James' youngest sister Sabra, who was sitting waiting for the rest of her friends so they could go to lunch. I went back to the dealer who had the Pocket Dragons, but ended up buying a stuffed fox from him instead. He has a beautiful, open face, and is as large as a small cat. (There are two dealers here that sell "regular" stuffed animals—that is, as opposed to the dealers who sell stuffed dragons and vorpel bunnies, or stuffed animals with wings on them; I bought a winged terrier last year, which is a terrifying thought, especially if they also had opposable thumbs!—but not "cutesy" stuffed animals, Webkinz, or the standard variety dogs, cats, and rabbits. One was this company down in the Dealer's Room, and the other was the booth upstairs where I bought "Kuma," and they both carry a line of realistic wild animals, from ferrets and martens to ocelots, zebras, beavers, wolves, deer...)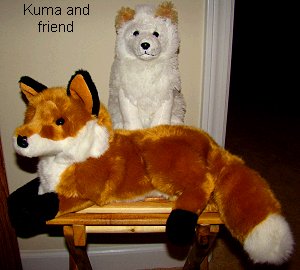 So my afternoon was spent at the Sheraton, with three BritTrack panels in a row. The first was devoted to Terry Nation, creator of the Daleks and the series
Blake's 7
and
The Survivors
. They spent some time talking about the latter, which is about the survivors of a plague which nearly wipes out the human population of Earth. It strikes me that James might really enjoy this series. I've never seen it, although I've heard of it, and apocalyptic fiction isn't really my thing (
Blake's 7
was as close as I got). We also did talk some about Blake and company, and about the cast's appearance on
Doctor Who
.
The next panel was "
Doctor Who
in Other Media" at 2:30 p.m., chiefly talking about the novels and audio productions. I still have some of my
Who
novels, especially some of the "Missing Adventures" involving my favorite Doctors, but many of them I gave up on after awhile because I didn't like the writing. Keith DeCandido was on the panel with some hardback copies of the newest "Short Trips" collection,
Doctor Who
short stories. I was doing a search on Amazon recently and had no idea that they had continued the "Short Trips" volumes because you never see them in the bookstores here, just the regular
Doctor Who
novels. I have the three original "Decalog" collections, which then degenerated into short stories not about
Doctor Who,
and at least one "Short Trips" paperback volume that I managed to find. Now they come out in hardback. I may hunt up a couple; it looks like they do a Christmas volume every year, which looks tempting.
James slipped in behind me for the BritTrack wrapup panel, "So Long and Thanks for All the Fish" at 4 p.m.; he'd planned to go to the Apocalypse track wrapup, but he said they didn't look like they were going to do anything. (He briefly showed me his art show print purchases: a beautiful alien planet landscape with spaceships flying overhead, done in chrome yellows and dark blues, and a sketch of a rather-battered wizard. The legend is "Sometimes the magic doesn't fix everything," and the wizard is pointing a revolver at some offscreen enemy.) The wrapup panel usually consists of questions about what people liked and what they didn't like, what we might like to add, or not to do any longer. I think it's fairly positive that they didn't do any
Whose Line Is It Anyway
improvs at all! These were fine when they were once a day, but one year almost the entire BritTrack programming consisted of
Whose Line
. It was very, very obvious that the panel, which included Alan Siler, Rob Levy, Rob Bowen, track chair Caro McCully, and "the two Alexes," were exhausted, because the discussion of next year eventually devolved into sleep-deprived insanity which ended with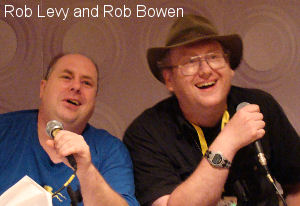 Rob and Rob doing dueling cartoon character voices, trying to outdo each other (they were actually hilarious, going from Yogi Bear and Alf to Mr. Burns and Smithers and even wandering into what sounded like Vizzini from
Princess Bride
). Someone was recording this, I believe, and I hope it ends up on YouTube, half because of the humor and half just to show what happens when you get so little sleep. :-)
Finally someone passed around TimeGate promos and told us it was time to go; I wailed, "But if we leave then we just have to go home and go to work tomorrow!"
It's always hard to leave a convention, but especially hard to leave this bunch. I've been watching
Doctor Who
since 1974 and other British programming for years, whether SF or not (
The Good Life! Flambards!! All Creatures Great and Small! Doctor in the House! The Goodies! Fawlty Towers!
), and I always feel as if the BritTrack is a bit of a spiritual home.
But it
was
time to go, so the three of us (James, me, and the fox <g>) made our way back to the garage and got on the road. We ate dinner, having "real food" (Longhorn! Cow! Sweet potato!), then made a short stop at Borders, since there was a 30 percent off coupon (James bought a book, but nothing I wanted was out yet), finally Bruster's for dessert (yay! coffee ice cream!). Then home to fids and more episodes of
What's My Line
and
The Name's the Same
.
And now it's bedtime.
(Next weekend, the
Yellow Daisy Festival
! Stay tuned if you like...)
Labels: conventions