We've almost just arrived in at 10:40 after a late panel called "The Changing Face of Fandom," which was moderated by two friends of ours, Bill Ritch and Sue Phillips. It's been a very long day!
Having been warned incessantly about the traffic situation downtown, we made sure we were up early (7:45) for a reasonably healthy breakfast before we got on the road. James drove Northside Drive some of the way down, but when we started to cross over the freeway we noticed there was hardly any backup at all, so we got downtown with no incident. From the parking garage James went right and I went left, back to the Sheraton for the Gerry Anderson panel at 10 a.m. I was so early I made a "pit stop" first, and discovered James in the room when I got there. He'd decided not to truck all the way to the Hyatt for the panel he'd first considered.
This was a small panel, but rather fun, as there was an Irish gentleman in the audience and he had watched Gerry Anderson programs from when he was small. He'd actually seen the first "Supermarionation" show,
Four Feather Falls
. It looks like most people's favorite was
Thunderbirds
, although there were a smattering of votes for
Captain Scarlet
. We also found out something interesting: there are fans who are working on an updated version of
Space: 1999
. Not new episodes, but the original ones enhanced the way the
Star Trek
episodes were enhanced a year or so ago. They've updated the SFX, tightened up some of the scenes, added more ambiance, that sort of thing. We'll have to check it out, since, after my first few
Star Trek
conventions, I cut my teeth on the old
Space: 1999
conventions.
Anyway, this is online at
Space: 2099
.
James was mostly on his own course today, but we walked to the Hilton together where he was off to another panel. I went upstairs to take a stroll around the Walk of Fame. There was a long line for the young lady who plays the cheerleader in
Heroes
, but I could bypass that just to look around. Mickey Dolenz has a booth right out in front. He's not looking at all bad. Cirroc Lofton was at his seat near the
Star Trek
"section." He has grown into a very handsome young man! I tried to get a glimpse of Jake Lloyd, who was little Anakin Skywalker many years back, but he was not in his seat. Jerry Doyle was also absent; I wanted to tell him I missed his radio show!
Then I hurried into the Marriott to make a quick stop at Andy Runton's table. He'd been ill yesterday and never did get down to his table after setting it up. I bought the new Owly book and picked up the free comic left over from Free Comic Book Day. I'd told him about Schuyler last year, so I showed him a photo of her that I had on my camera's memory card and was telling him about her funny little habits.
Having nothing else I wanted to do, I wandered up to the Marriott Grand Ballroom, where the "big"
Torchwood
panel was taking place (this was the "big" one because James Marsters was in it, too). The room was full, but I just stood against the wall with all the other latecomers and snapped photos. I am quite aggravated at this convention because it is obvious that the arthritis in my elbows is making my hands too unsteady for taking photos from a distance. (This is one of the reasons I bought a tripod, but I'm not going to haul
that
around here, too!) I finally put the "burst" feature on, which just keeps taking pictures as long as I keep my finger on the shutter. This way out of ten pictures I would usually get one or two good ones.
Anyway, this was one hilarious panel. I arrived at the door just to hear James Marsters comment that he had learned one important thing by kissing John Barrowman: Men need to shave properly! O that razor burn! From there it only went downhill. Gareth did a rap song about coffee. James said his favorite character on
Buffy the Vampire Slayer
was Giles (and that he had learned quite a lot from Anthony Head). The "life o' the set" is Barrowman, who is even cheerful first thing in the morning. They were asked what would be their ideal role, and Gareth wanted to play Macbeth and Anthony Lewis James Bond. James Marsters said he would like to play "a disillusioned Starfleet captain," back when exploration first began and no one quite knew what they were doing.
Someone asked for a funny story from the set. Anthony's story was when they were filming his episode and he was in bed with Tosh. They filmed two episodes at the time, and they had just finished the scene where Tommy is in bed with Tosh. Next to be filmed was the scene where Adam is in bed with Tosh. So he finished and ran up the stairs, meeting the guy who played Adam, and they gave each other a high five! Incidentally, Naoko Mori, who played Tosh, is now living in the United States.
::cough:: They also discussed what is the best swear word, but perhaps that's best not discussed her, but needless to say Gareth's response to James' answer was, "There's nothing like a good ****!" ::cough::
I had two possible panels to go to, one about the new
Trek
movie and one about young adult writing, but instead I went to the "What If" panel, which had to do with alternative history writing. The panel members were Eric Flint (
1632
and sequels), Bill Fawcett, Harry Turtledove (several series), and Jana Oliver (the "Time Rovers" series; Jana was also at Timegate). James was at this panel and we sat together.
It was quite interesting, as they discussed some of the things they had learned in researching for their novels (and learned not to include 90 percent of it in their final product). They also talked about which eras are not represented as much in alternative history books, which included the Napoleonic era (especially from a French POV) and World War I. (One of the questions was about misconceptions people held about history, and one response was that World War II was not the pivotal event of the 20th century, but that World War I was—which is true, since WWI caused WWII.)
James went off on his schedule again when this panel was concluded, and I headed to the Marriott to see Dean Haglund (once "Ringo" Langly on
The X-Files
and
The Lone Gunmen
), stopping by "The Missing Volume" in the Exhibition Hall to get the first book in Oliver's series. She gave out samplers of
Sojourn
at Timegate and I'd been meaning to look for it.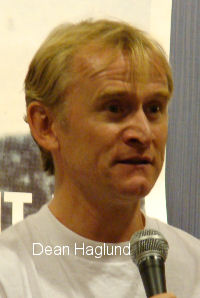 Dean Haglund is always good for a fun hour. He has cut his long blond hair in the past few years and looks very much like someone's goofy cousin and always has goofy stories. One was about the filming of the Las Vegas-set episode of
The X-Files
, which was filmed on location. Dean went to a bar called The Beach and got totally wasted. He suddenly became stone cold sober when he found himself standing naked outside his hotel room and no idea how he got there. He had various "adventures" trying to hide himself from hotel guests until security could rescue him. Once back in his hotel room, he found all his clothing on the floor of his room. Apparently he had reached the room, undressed, and then stepped out the door, perhaps thinking he was going into the bathroom.
One very funny response was to the question "When you began playing the role of a conspiracy theorist, did you do research into real-life conspiracy theorists?" He said not only did he, but he still keeps abreast of different theories. Some of them, he stated, are pretty wild, even stranger than the Kennedy conspiracists, the fake moon landing folks, etc. The strangest one was that the war in Iraq is just a cover-up with a war with aliens going on in a multi-dimensional portal, and that President Bush knows about it because in a news conference he said he answered to a power from beyond the stars.
O...kay...
Oh, Dean is also the inventor of the
ChillPak
for laptop computers.
I was able to stay in the Marriott for the next panel, which was labeled as "the DS9 Reunion," with Avery Brooks (Benjamin Sisko), Cirroc Lofton (Jake Sisko), and Michael Dorn (Worf). There was quite a tremendous line for this, but I just waited with a bunch of other folks until it passed by going into the Grand Ballroom, and found a seat about halfway down.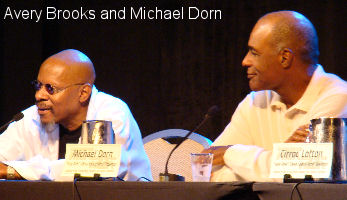 This was a good panel, but with not many silly stories. There were many comments about the positive role models the men provided for African-Americans, but also about their acting chops. One of the usual questions for these panels is how the participants started out in acting and Avery Brooks responded that it was all those church programs that he was involved in as a boy which his mother insisted he participate in!
Brooks also talked about his audition for the role of Sisko. He was working at an event in Atlanta when they asked him to audition and he flew in to Hollywood specifically to do so. He said they did not have a specific idea of what they were looking for in the role, since he met another man auditioning for the role who was from Belgium! But when the decision came down to hire him, they asked if he would change his appearance from his usual shaven head and facial hair; they wanted him to grow his hair back and shave his beard. He asked why.
They told him they did not want anyone confusing him with Patrick Stewart. [eyes roll]
I nipped out of this panel a few minutes early in order to run to the art show. Caran Wilbanks and Jake Skidmore were tending the ARTC table and let me stash my stuff there so that I could run into the art show to buy the three prints I mentioned in yesterday's entry. This way the guard at the exit door didn't have to search my lunch bag and my camera bag when I exited, and I could show off my purchases briefly and then dash to the Katherine Kurtz panel in "the dungeon," the small meeting rooms downstairs in the Hyatt which don't get any Verizon cell phone service.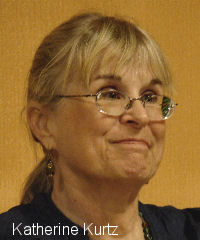 As I expected, she did the most talking about her "Deryni" series, which I have been never able to get into. I'm not much into quasi-medieval societies. (Possible good news for Deryni fans: her
Deryni Rising
has been optioned for a movie and will be written by someone who has been reading the books since he was about twelve.) But I was hoping she would mention if she and Deborah Turner Harris were doing another "Adept" book. Well, Harris has done a treatment for one, but it's not official yet, and it would be taking place in 19th century England, tentatively called
Hunting by Gaslight
. We did actually discuss, a bit, Kurtz's
Lammas Night
, which is a World War II fantasy which is very grounded in reality. Several people beside myself praised the realistic characters and military situations balanced with the fantasy elements.
Kurtz and her husband Scott McMillan were very famous for having lived in Ireland for the past 20 years, but they have moved back to the United States (Virginia near the intersection of I-66 and I-81, which we know well!). They bought another historic home in the country and have various kinds of wildlife on their property. They are fixing up the house to include a paneled library. McMillan is a Mason and they were very surprised upon learning how informal the Masonic lodges here in the US are after the formal and beautiful lodge he belonged to in Ireland.
By now my energy was beginning to flag; it was time to have my supper. So I tramped over to the Marriott to meet James, who was attending a demo of a game. I went upstairs to attend a young adult novel panel called "From Page to Screen." We didn't end up trashing
The Seeker
as much as I had hoped. LOL. Seriously, it was a good panel, with questions about what novels succeeded as movies (
Harry Potter
for the most part for most people), what movies didn't (
Eragon, A Wrinkle in Time, The Seeker, The Golden Compass
), what fears were for the
Twilight
film, what books you are afraid they will ruin making a movie of, etc.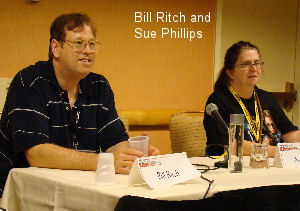 And then we went to the Fandom panel mentioned above. This was a lively discussion and great fun. We "began at the beginning," back to the "sci-fi fans" of the 1930s who were mainly geeky guys who arranged something then jokingly called "the Worldcon." They got their SF mostly from magazines and the occasional film like
King Kong
and
Metropolis
. Female fans made their big breakthrough with
Star Trek
and then later
Star Wars
. Fanzines became fiction, media conventions blossomed to the horror of the old-guard literary fans, and suddenly there was so much material fandom became fragmented. Now fandom is on the internet and, in a way, that proverbial new ball game, yet still the same.
Now extremely tired, we trudged out of the hotel and headed across the pedestrian bridge to the garage, to the truck, and then home.
Labels: books, conventions, shopping, television