After a brief stop at Michaels to spend a couple of coupons (of course I bought more fall things, themed papers) and at the bank to get James some cash, we headed downtown. They are starting a weekend road construction project after rush hour ends today and have been warning people about it for weeks. You could see what they were setting up, though; dozens upon dozens of backhoes and Bobcats out there.
We parked at our usual venue, the Courtland Street garage, trouped over the "Luke Skywalk," as we jokingly call it, and through the Peachtree Center food court to the Hyatt. I grabbed a Daily Dragon (all updates are posted here) before we went to registration, for which we had to go back outside and walk around to the Baker Street side of the hotel. The lines snake in a serpentine pattern like at Disney World and you get quite a workout just making your way through them. We call it "the DragonCon exercise program."
I had this crazy idea that if we went to today's
Torchwood
panel, there might be fewer people there because some folks do still have to work today. James decided to go with me, and we decided that the best way to get to the Sheraton without exposing ourselves to too much sun would be to backtrack. So we went back through Peachtree Center, across the pedestrian bridge, back into the garage momentarily so we wouldn't have to carry around the program books all day, then took the elevator down the seven storeys to the street and walked the one block into the Sheraton.
We hadn't been here before and I had to laugh: the way to all the meeting rooms for the programming was through the gift shop! (I guess it's a State Law!) The
Torchwood
panel was in the Sheraton's ballroom at one o'clock; here it was noon and there was already a line.
So we got in line and ate our lunch. We got up early enough to eat a good breakfast and then I had made the rest of the Trader Joe's chicken salad into two sandwiches. James got some cold water from the snack bar part of the restaurant around the corner and we just stood there eating. Kim Holec joined us and finally about 12:40 they let us troop into the room and take seats. The Brit Track participants have been insisting for years that they need more room; well, we have it now.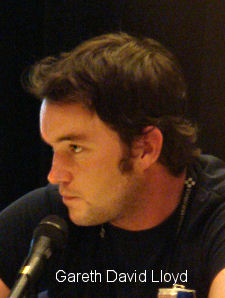 And they needed it, because this was the first year Brit Track has had guests and they went big: Gareth David-Lloyd from
Torchwood
and Anthony Lewis, who guest-starred as the British "tommy" Tommy in one episode. Let's say with these two attractive guys on the panel the estrogen was high as an elephant's eye. :-) Both were in comfortable scruffy clothes—a big change for Lloyd, as on the series he wears mostly suits—and the panel was just plain fun, if tooooo many of the people standing in line for questions—almost
all
women, wonder why!—were asking for an opportunity to snog one of the guys! One young woman had a teddy bear dressed up like Tommy; it was quite cute.
There were the usual questions about episodes and about what the actors do on their off time; we seemed to have a long discussion about vodka. British actors do seem to like to drink; I remember when I used to go to the
Space: 1999
cons you could always find the guests at the bar! No one ever got roaring drunk, though.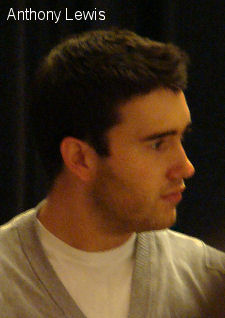 Oh, and I hadn't realized that Anthony Lewis is the older brother of Matthew Lewis (who is also a guest), who plays Neville Longbottom in the Harry Potter films. Anthony was complaining that his younger brother is now taller than he is! :-)
James and I decided to do the dealer's room next. It was very crowded since it had just opened only an hour earlier, so we moved through as best we could. There's not much I want in the dealer's room or the exhibition halls (which are still dealer's rooms) these days, especially since the fanzine sellers and McFarland booksellers don't come any longer. The vendor that sells the fantasy statues does have a nice selection of Pocket Dragons this year, including Christmas ones. Temptation.
I was dying to get to the dealer's room because it is next door to Artists Alley and I wanted to find Andy Runton and get the
next Owly book
. But he wasn't there! His table was there, and the books all covered up, but no Andy. ::sob::
Upstairs in the exhibition halls, I did see a game or two I might like, and there's a new
Korgi
book out.
Rather sore-footed by now, James and I headed back to the Hyatt for the
Babylon 5
panel. This consisted of Jerry Doyle, who is still doing his radio talk show, and Walter Koenig. Walter was a little late, and Jerry, irreverent as always, was commenting about the political situation, and then was telling us about a telephone message he received from an astronaut buddy of his from the International Space Station. He was trying ineffectually to play the message on his cell phone when Walter walked in, and the two of them did a humorous bit with cell phones before they got down to answering audience questions, most about
Babylon 5
.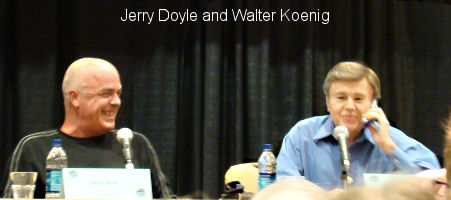 James was headed for a "Politics and SF" panel downstairs when this finished, but I ran across the street to the Marriott for another chance on catching Andy Runton. Nuts. Still not here. I strolled back upstairs into the larger of the two exhibition halls to pick up the Korgi book. These are sold in a booth that also sells handmade animal puppets, stuffed dragons, and stuffed wild animals. They had a stuffed corgi that was quite cute, then I was looking among the wild critters and came out with what is a stuffed Arctic fox. However, except for the fact that the real animal is more cream-colored than white, this little guy looks like a stuffed version of "Kuma," the dog who plays "Jesse" in the
McBride
movies. How could I pass him up? :-)
On the way back I stopped at the art show, and I have the possibility of being rather bad: there are three animal prints that I really want. One is of a jeweled white wolf who breathes snowflakes against a snowfield, another is a totem pole of sorts of an arctic fox, white wolf, polar bear, caribou, and a snow goose called "Treasures of the Arctic," and the third is a grey wolf clad in a blue jay's "coat" against a vivid background of fall leaves called "Autumn's Jester." Lovely.
But it was getting close to opening ceremonies, so I snagged a front seat and held one for James, who arrived upstairs after his panel ended. Opening ceremonies, sadly, are usually pretty lame. This one was a little more interesting than usual in that they had a
To Tell the Truth
style panel with three young woman who claimed they were "Anita Blake, Vampire Hunter," the creation of Laurell K. Hamilton in a series of fantasy novels. Hamilton herself and two other men had to guess which was the "real" Anita. Of course, when the reveal came, it was Hamilton herself.
Following opening ceremonies was the first of two performances by the Atlanta Radio Theatre Company. This was their horror presentation,
The Doom of the Mummy
, about an Egyptologist who had discovered the secret of eternal life and of the sacrifice he was going to make of a colleague and his fiance, not to mention that of a lonely young freshman, to enable his life, and that of the woman he loved, to continue.
We left after the performance to return to hearth, home, and happy fids, but first we had to negotiate the construction maze. We got caught; they had the HOV lane to I-75 North completely blocked, and we were on the wrong side of the road, since the freeway is set up so that to get to I-85 going northeast you have to bear left and to I-75 going northwest you have to bear right, exactly backwards of what you would think it would be. So we jumped off I-85 first chance in Buckhead and had to cut through Piedmont Road, Lindbergh, Peachtree Road, West Westley, and finally Northside Drive, otherwise US41 going north and becoming Cobb Parkway closer to our house.
While driving down West Westley we came upon the most bizarre site: there were three police cars, blue lights flashing and high beams blazing—I do mean blazing; their lights looked like magnesium flares!—and sirens on, escorting three full buses (not city buses, but chartered buses). Have no idea what it was all about, but there were police everywhere, even close to our house, it being a holiday weekend. Out in force indeed!
I set "Kuma" next to Schuyler's cage and her eyes got very big and she proceeded to come forward and nibble on his nose. This is a bird who is afraid of my finger, but who is fascinated by cell phones and who loves stuffed animals! Such a funny little girl!
Labels: animals, books, conventions, science fiction, television