James Lileks has a link in his blog today of his photoessay of the
Minneapolis Armory
. It brought to mind the Cranston Armory, which sits deserted and in need of funding and restoration. While Lileks' armory, circa 1937, is a marvel of Art Deco design, the earlier era of the Cranston Armory (built in 1907 to house the RI National Guard) gave it a very different look. I'm sure kids for generations have referred to it as "the castle," since that's what it looks like.
The Cranston Armory
We would always pass it every time we took the bus downtown. At this point it looks as if it will meet the same fate as the grand old trolley barn further down on Cranston Street; plans abounded for it for years—mall, offices, museum—while
it crumbled and finally was laid to rest in 2005
.
Speaking of downtown, was searching for photos yesterday and came upon the photo below—brought tears to my eyes. Although Westminster Street is a street once again and I remember it as a street as a very small child, later being converted into a pedestrian mall, this is the way I remember Westminster Street best, as Westminster Mall. Even as being "newish" in the following photo (I say "newish" because it appears Newberry's—down the street from Thom McAn—is still open, or it's at least before they took the lettering down—the downtown Providence Newberry's closed in 1968, I believe), and it's still the old Woolworth red sign as opposed to the blue sign they had in the 1980s (and possibly late 70s), it already looks a bit run down at the heels. Westminster Mall was supposed to help draw folks away from Midland Mall, but in the end it failed.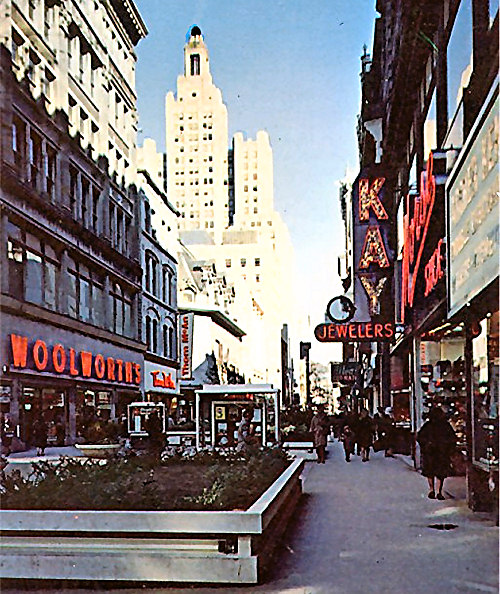 Just next to Kay Jewelers, going away from the POV of this shot, was the entrance to the Alice Building. Built in 1898, the front apparently looks like
this
now, and the interiors like
this
, but I remember it with the arched window as in
this photo
, with big wooden/glass doors rather than the steel-and-glass doors shown. At that time (1965) the interior had not been freshly remodeled and more resembled the type of office buildings you see in 1930s-1940s drama movies, with narrow corridors and wooden doors with frosted glass panels in the top half leading into offices. The Alice Building housed doctors and lawyers and other such denizens then, their names painted in gold leaf or black paint upon the glass in the doors. I believe the building still had, back then, the cage elevator doors that the operator had to close, too.
It was in the Alice Building that I got my first pair of glasses, at age ten, and I remember walking down the steep stairs from the lobby to the street and seeing, first thing, that big red Woolworth's sign, and, having lived in a nearsighted blur for quite awhile, turned to my mother and exclaimed in awe, "Mommy, I never knew the world was so bright!"
And it had edges, too. :-)