Today was fun, if a bit frustrating in parts.
I'd been feeling unwell last night, so we blew off our first panel and instead left the house intending to make an 11:30 one. At least we
tried
to get there early. Traffic was dreadful, even on a Saturday morning and the Williams Street exit was backed up onto the freeway. Also, we are used to the Courtland Street Garage being crowded on Friday because people are working that day. But the garage was just as crowded this morning; we barely found a spot, and the Peachtree Street Food Court, which we cut through on the way to the hotel, was mobbed, including with mothers with children who did not belong to the convention. Obviously some other event was taking place, but I don't know what it was.
I toyed with going to the Harry Potter panel again—this time they
had
scheduled it in a larger room—but I finally decided to go with the
Babylon 5
panel instead.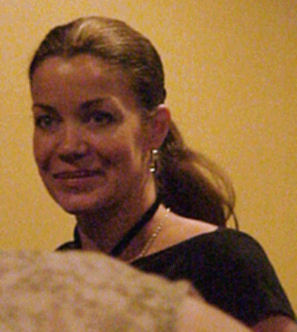 Three people were supposed to be on the panel, but it was just Claudia Christian (Susan Ivanova); this was okay because Claudia has enough energy for three anyway. She is what in my mom's generation was referred to as "a pistol." This woman could make a hummingbird look lazy. With the prompting of questions she bounced from one subject to another with much humor, including talking about how she didn't like being "the Voice of the Resistance" because all she had to do was read a Teleprompter; no acting was involved. She also told a funny story about a bet she had with Jerry Doyle about both being in the same number of episodes—until a script came along without her. She told Joe that she had to be in that episode; she had a bet riding on it! :-) So she appears briefly coming out of an elevator.
She had been living in England for the past three years, has
written a book about her experiences at conventions
, and is learning to play the fiddle (her brother has a bluegrass band). She talked about her love of books—she has a two-level library and said she has so many books she's giving them away to friends; she brought four with her this weekend alone.
Someone asked her if it was hard to work in front of a green screen and she started laughing just recounting a scene where Ivanova was greeting Lyta Alexander coming off the organic ship belonging to Kosh; Alexander comes down a long ramp that has been extended from the ship. The ship and the ramp were put in later via CGI; what she actually saw was a stagehand munching on a bagel wheeling actress Patricia Tallman, who was on her knees, in a children's wagon! She couldn't stop giggling and they finally had to send her off the set. She also said that, to remember the buttons in C&C (the station's control center) that they were to push, they would label them with things like "chips" or names of rock songs.
She said her favorite two episodes were the episode with the Drazi (green! purple!) and the episode where Marcus sacrificed himself for her.
From there I went to the
Doctor Who
Classics panel down in the depths of the Hyatt. The Brit Track panels are usually crowded into a small room and this one was SRO as we talked about the different aspects of the series, the panel moderators' favorite Doctors and companions, what we did and didn't like about the Paul McGann film, etc. It was very warm in the room and I was feeling a tad overheated when I emerged, so instead of going anywhere else I joined James in the "Designing the Future in Plastic" models panel since the room was very nicely air conditioned! They discussed old SF and fantasy models and one of the moderators said his company is releasing a model of the "Voyager," the ship used in the animated
Fantastic Voyage
series! If James wants to buy that one, he has a thumbs-up from me—I enjoyed that series, even if it was typical Filmation limited animation. wish I could find it on DVD!
Incidentally, I saw something I thought rather funny on the way to the panel: the hall costumes are out in force this year, with the usual superheroes, fairies, anime characters, television favorites, the Blues brothers, etc. One of them was a lovely Gandalf, beautiful costume from top to foot.
Except he was talking on his cell phone. Arranging to get together with Bilbo Baggins later on? :-)
I went back to the Cairo meeting room for the new
Doctor Who
panel; I was almost fifteen minutes early and the room was crammed full already. A line formed behind me all the way out toward the escalators. Every seat was already full (I counted later; I think there were 80-85 chairs) and people were along the wall and sitting on the floor (I guessed there were probably about 130 people in there; someone took a photo inside and of the line outside to prove to DragonCon that the Brit Track needed larger rooms!). You could only get in if someone came out. I was the last person that got in. It was hellishly hot, just like my cubicle for most of the summer, and I had no fan, but luckily I had a cup of water from one of the water jugs in the hall. I kept dabbing water on my nose so I could breathe properly and on my neck and arms to keep from overheating.
Otherwise the panel was terrific. Most of the folks have seen the third season on downloads from England, so they were way ahead of me, but I've read all the synopses on Outpost Gallifrey, so I know all the spoilers. However, they had some spoilers and rumors that I had not heard.
A good time was had by all, and all that, but it was good to get out and be able to take a deep breath again.
After that James and I met at the Hilton to attend a telecommuting panel. The moderator was lucky in that he has been telecommuting for ten years! He works for a software company in California but lives here; works totally by telecommuting. At least one person in the audience said they worked at home but were having trouble in being distracted by household things. When I get distracted, all I have to think about is driving to work and back!
That's
enough to make me focus, trust me. LOL.
Well, now we had to make a decision. There was a writer's track panel at ten that we were sort of interested in. But to attend it we would have had to have hiked back to the Hyatt and then waited three hours. There was a Harry Potter
Jeopardy
or a
Babylon 5
lost tales panel we could have gone to (except I lost interest a bit in the lost tales when Claudia said at her panel that only Bruce Boxleitner, Peter Woodward, and Tracy Scoggins have been contacted to be in them; what's the fun in that?), but we were both warm and tired, and we both have panels we want to go to early tomorrow.
So we wandered about the two exhibition halls for a half hour until they closed (I got some lovely card-sized fantasy prints) and then "got the hell out of Dodge," stopping at Michael's to spend a couple of coupons (I got a lovely metal autumn leaf wall hanging) and at Publix before going home to our happy fids.
Labels: conventions