We call Day 1 the "DragonCon Exercise Program." There's always something up with registration that means we have to troop around a lot.
This year part of the Marriott hotel is being renovated, so many things are in the Hilton. We expected registration where it was the past few years, but discovered from asking someone that it was in one of the ballrooms in the Hyatt. So we walked past the Marriott to the Hyatt, up the steep, steep steps next to the pool, and inside only to find out registration was only reached from the outside, on Harris Street.
Except when we walked all the way back to Harris Street there were no doors open and lines forming. Luckily we saw someone who already had a badge.
The entrance was on the other side of the building, on Baker Street. Duh.
Plus of course there was the usual switchback line system alà Disney World. We're also not sure what was wrong with the guy who checked us in. He peered at everything as if he couldn't see or couldn't read.
At least we weren't in the Ticketmaster line, which looked like a line for rock concert tickets.
From there we split up and I didn't see James again until opening ceremonies. He attended some science and literary panels
and really should write about it in his own blog—hint, hint
.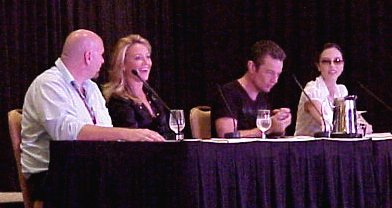 My first panel was one with Juliet Landau, James Marsters, Elizabeth Rohm, and Ken Feinberg, who worked on the
Buffy
and
Angel
series and who is now a director who lives in Atlanta. This was great fun; the panel kept things hopping. They were asked at least one question about slash fanfic that made James Marsters turn red as the proverbial beet. He has been a guest star on the
Doctor Who
spinoff
Torchwood
that features the very sexually active Captain Jack Hearkness played by John Barrowman, so someone else asked him if he had "snogged" Barrowman. It was all very irreverent.
Juliet Landau talked about doing a short film with Gary Oldman which Oldman filmed completely on his cell phone camera. The music to the film is done by a Jewish hip-hop band called "Chutzpah." She also had an interesting story about working with her father in a film. She actually had no scenes with him, but did have to do scenes with a body made to look like her father in a casket, which she found unsettling and slightly frightening.
Watching Elizabeth Rohm I wish they had cast her as Murphy in the Harry Dresden series. Of course she'd now be out of a job, so maybe it was for the best. <wry grin>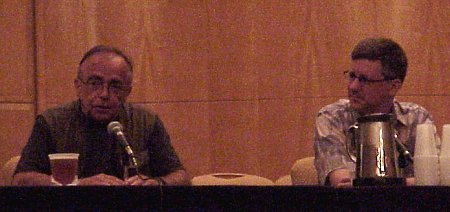 The next panel was a bit more low-key. This featured two of the "Lone Gunmen" (Dean Haglund was absent this year) Tom Braidwood, who played Frohicke, the one who had eyes for Dana Scully on
The X-FIles
and Bruce Harwood (Byers). Harwood made me smile because without his Byers beard he's nearly a dead ringer for my old supervisor (and in this pic looks a lot like Rick Steves, too!).
Braidwood had been involved with
The X-Files
as a crew member, so he had some interesting memories of the series, such as helping the "cockroach wrangler" in the episode "War of the Coprophages." He also reported that they made the slime that went on the "Tooms" character so repulsive that the makeup technician refused to put it on him. Braidwood had to do it instead.
In another case of "the actors are always the last to know," they both found out there was a spinoff of the Lone Gunmen characters by reading
Variety
. They also told about finding out about the September 11 attack on the World Trade Center after the
Lone Gunmen
pilot had involved a plane deliberately crashing into the same site.
A more amusing story was about filming a scene up in Canada on a very cold, blustery day. They were all in shirtsleeves and freezing while the crew stood some distance away. The latter were crowded around a table and they were shivering and wondering what the delay was. Then they realized that the crew was actually having some hot soup while they stood freezing and waiting for their shot!
(Sorry the pic is so dark. The International North and South rooms are always abominably lit.)
I had a blank hour here, so hiked back down to the Hilton to go into the Dealer's Room. I cut through the Marriott and was able to see some of the construction barriers first hand. The Dealer's Room was where it used to be back when D*Con was in the Hilton/Marriott, so it was all very familiar yet confusing at the same time, as most of the dealers have usual spaces in the Marriott which we had gotten used to. Didn't see anything that screamed out "Buy me!" but may go back for a
Buffy
book and my yearly Pocket Dragon.
I also walked through what they call the "Exhibitor Space," which is a bit of a misnomer. These people are exhibiting
and
selling, so it's just a glorified Dealer's Room. There was a bookseller there with a mystery book I had never seen before...I'll think about it. I usually don't buy hardbacks unless it's a favorite author or on remainder.
Next I tried to go to the panel with Matthew Lewis (Neville Longbottom) and James and Oliver Phelps (Fred and George Weasley) from the Harry Potter movies. I never made it. You would think maybe someone on the D*Con programming committee might have had the foresight to note that actors from an ongoing movie series based on a book series that just ended might be
very
popular and need to be placed in a larger room? The line was out the door and out in the street. The people like me who turned up from inside the hotel didn't have a chance. Hotel security was having a fit because of fire code violations. I finally just went back upstairs to stop by the ARTC table and talk to John Campbell, who just had a really bad teaching experience in one of the local schools. The students were abusive and he was never given any supplies to teach the course. No wonder parents send their kids to private schools!
I finally had to get out of there; they had
loud
bands playing down on the level where the ARTC table was. You could barely hear anything.
James and I finally reunited at opening ceremonies, which was followed by the Atlanta Radio Theatre's production of
Rory Rammer, Space Marshal
and
The Challenges of Brave Ragnar
. Rory rather inadvertently infiltrated a space sanitarium and Brave Ragnar (complete with his own fanfare) proceeded on a quest and found more than he expected. I would like to say I really enjoyed both, but my aging ears had a difficult time making out a lot of the jokes since the programming next door was a wrestling tournament, complete with loud music blaring through the walls. I saw Bill Ritch slip next door and the sound diminished a bit, but it really wasn't conducive to listening.
Robert Picardo (the doctor from
Star Trek: Voyager
) was supposed to speak at 8:30, but when we got to the room a notice was up that he was not appearing due to professional commitments. So we said goodbye to the folks at the ARTC table—they're all going to be deaf by Tuesday—and came home to fids and quiet.
Labels: conventions