:-)
Today we went out to Lilburn to meet Lassie. He (because Lassie has always been a male) is touring the country in a big beautiful motorhome promoting a new dog food called "Natural Way." (No, you're not hallucinating. Lassie already had a dog food way back, a canned food called "Recipe," supposedly based on the stew Betty Weatherwax used to cook for her husband's dogs. And he originally promoted Red Heart dog food, which used to sponsor the
Lassie
radio show.) The appearance was supposed to be from 9 through 3 p.m.; we arrived armed with water and cameras.
Unfortunately, we had to wait because Lassie had put in an appearance on CNN this morning as well as doing some type of webcast and had "gotten sick" on the elevator. (I don't blame him; I don't like elevators, either.) The vet had to make sure he was okay before he could make the appearance, since it was so hot.
The road team had set up several tents, one with a stage and another with a low platform and a bench. Next to the stage tent, the DeKalb County animal rescue had a tent with some dogs looking for adoption. (It worked, too: a chow/GSD puppy and a Pomeranian went home with new owners.) James and I stayed under the stage tent the entire time, interacting with the dogs as the rescue people walked them. (A Corgi cross leaned on me and I petted her until she had a contented look; as I petted great swaths of white hair floated off her body! James got to cuddle with one of the chow/GSD puppies.)
There weren't that many people and many of the folks who knew about the appearance and showed up early with their dogs finally left because they didn't want the dogs out in the heat; the asphalt parking lot was sizzling by noon. To entertain the folks who were there, the road crew played an advance copy of Charles Sturridge's new version of
Lassie Come Home
, titled simply
Lassie
. I'm pretty sure we saw 90 percent or more of it, starting with a foxhunting sequence that introduced the villagers and the coal mine, all the way through to the credits. I'd had some doubts about it because of the changes Sturridge made in the script, but it was very good, following the spirit of the book well. The end was a bit drawn out and could have been more dramatic, but the countryside and score are breathtaking and the child actors playing Joe and Priscilla are excellent. Peter O'Toole, as the Duke of Rudling, is also outstanding. The dog playing Lassie actually isn't a "line dog," that is, descended from Rudd Weatherwax's collie "Pal" who originally starred in the 1942
Lassie Come Home
and who "became" Lassie, but a Lassie descendant has a cameo in the movie.
The vet gave the okay and finally at 1:30 Lassie emerged with his trainer, Carol Riggins. (Robert Weatherwax, Rudd's son, no longer shows Lassie in public.) She let him off leash, then had him sit next to a bench and people who had little frisbees marked with an "X" could have their picture taken. And here I am: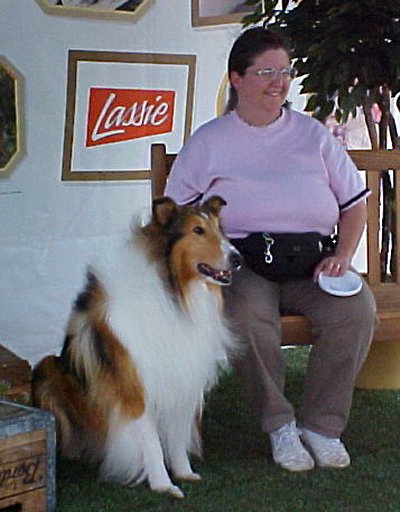 Yes, that beautiful fur is as soft as it looks. Someone puts in a great deal of time grooming this gorgeous dog.
James had his picture taken separately.
The photo session lasted about a half hour, then Carol had Lassie do a few simple routines on command before taking him back inside, probably for a well-deserved drink! James and I stood out in the sun the entire time taking pictures and got slightly sunburned for our pains; it was very hot and we weren't wearing a fur coat! It was a lot of fun but we were glad to get into the truck and under some air conditioning.