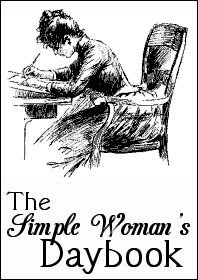 FOR TODAY, OCTOBER 2, 2012
Outside my window...
...it is cloudy and a bit gloomy, sad to say, but it may be my mood, as we had disappointing news yesterday. The bird feeders are empty, but still sopping wet from the rain yesterday and I am reluctant to fill them.
I am thinking...
..."happiness hangs by a hair" is oh-so-true.
I am thankful...
...for teleworking again. I love the extra hour of sleep and being able to do things at lunchtime like wash the clothes and do some housework. The house always looks like a tornado went through it during end-of-fiscal-year.
In the kitchen...
...a lone light burns. No goodies for us for a while.
I am wearing...
...sadly, still in black tank top and black shorts. Still too warm even for my "flannelette" Mutts PJs.
I am creating...
...still working on the leaf cross stitch, still working on the "me" shelf. Got sidetracked and never did get up to speed again. Mostly, I hope to be creating order today.
I am going...
...to do some really exciting things! Swap out toothbrushes! :-) And I never did change out the copyrights on my web pages, which I usually do New Year's Day. I've been in a funk most of this year.
I am wondering...
...if things happen for a reason. I always hear "When God shuts a door he opens a window," but I think they're all stuck shut.
I am reading...
...
To A Distant Day
, a book about the rocket pioneers before the American and Soviet space programs. Stalin has just died. We certainly made a deal with the devil with that SOB to defeat Hitler. He killed just as many people.
I am hoping...
...it
gets
cool and
stays
cool. I remember wonderful 2009-2010 when it got cold in October and stayed that way almost through March. Some of the trees appear hopefully looking toward fall. The dogwoods have been rusty since the end of August—of course they bloomed three weeks early! It's as if they are saying, "Look, we're tired! Y'all can party if you want to;
we're
heading to bed!"
I am looking forward to...
...the Cobb County Library book sale, though God knows why as I haven't read most of the books I brought home from the April edition! Now that I've found a hardback copy of
The Good Master
, I wish I could luck out and find a nice hardback copy of the sequel!
I am learning...
...I shouldn't throw things. I did this morning and knocked down my business card holder and my elf-rider pewter sculpture. I was aiming into the hallway and, of course, I can't throw to save my life. I guess it didn't help that I was throwing a long box of omeprazole (but that was the least bulky thing I could find to throw).
Around the house...
...low mutter of television for Schuyler. Willow's asleep. Laundry baskets are awaiting downstairs transport. I still have to try to catch the spider in the laundry room and try to get it outside. She's a big spider and it kinda scares me, but I don't want to kill it: they catch insects.
I am pondering...
...life. Don't talk to me about life. Why some people get things, and others don't.
A favorite quote for today...
"A few days ago I walked along the edge of the lake and was treated to the crunch and rustle of leaves with each step I made. The acoustics of this season are different and all sounds, no matter how hushed, are as crisp as autumn air." . . . Eric Sloane
I love autumn walks! One of my favorite things about our annual work picnic is that it is usually held in a park with some woods nearby. After all the award and summary hoopla is done and we've had lunch, it's my habit to go walking through the bit of woods, tramping on the leaves and watching the birds.
One of my favorite things...
...well, I just mentioned that: walking in the woods in the fall. I was so sorry James' knees were not in shape for the walk at Queechee Gorge two years ago. One time, many years ago, I got off the path and went into the woods. I carefully chose a landmark so I would not get lost and went jumping over logs, shuffling through leaves, sniffing the wonderful scent of the woods in fall. It was magical! Screw Caribbean resorts!
A few plans for the rest of the week:
Cleaning, cleaning, cleaning. And extra sleep. Washing clothes.
A peek into my day...
How about a more interesting day in the past? Here's one more for Neil Armstrong:
If you'd like to participate, check out
The Simple Woman's Daybook
.  
Labels: Simple Woman's Daybook